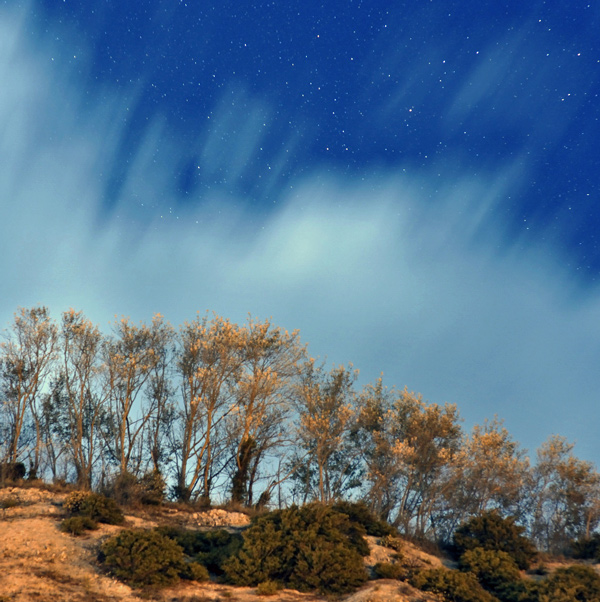 Twelve hours before the Christchurch earthquake I was somewhat wearily walking the quiet waterfront at Kaikoura, 150 km to the north on the east coast. I was happy after a perfect evening of night photography, and had the moon well up behind me when I spotted these trees high above. They fringe the cliffs which back the narrow beach near the port.
The uncommon perspective of looking up at this scene was embellished by the cloud movement plus street lighting from below. There's a possible problem with limited depth of focus on the telephoto, evident in some softness on the lower vegetation. This happens to be gorse, a thorny weed which no self-respecting Kiwi photographer would normally allow within the frame. Either focus was soft or it was breezier up there!
The answer to depth of field is usually a smaller aperture, which mostly means a longer shutter time – but here that would have dispersed the fast-moving cloud much more. The alternative is to increase ISO one stop (i.e. double it) and close aperture one stop. However as I usually hover around the Nikon D700 noise limit of ISO 2000, I don't often resort to this.
As it is, I like the blur that just half a minute achieves. A surprising number of stars came out for a moonlit evening… that they are not perfect points shows that the earth's rotation is perceptible even over this short span. With the 85mm lens I am noticing that  10 seconds does not freeze the stars perfectly. What a speedy globe we live on.
Using the Incandescent light balance (= tungsten) setting on the Nikon D700 alleviates some of the orange blast from the streetlights and gives a very cool sky. A daylight balance would be too orange and would add colour to the low cloud, though sometimes that is to good effect. The square format presents the layered elements of the photo better.
85mm, ISO 2000. 30 seconds at f4.5
Posted by Barney Brewster
Tags: clouds, focus, high ISO, Kaikoura, long exposure, moonlight photography, movement, Nikon D700, stars, street lighting;, summer, telephoto, trees, tungsten

Categories: Night photography