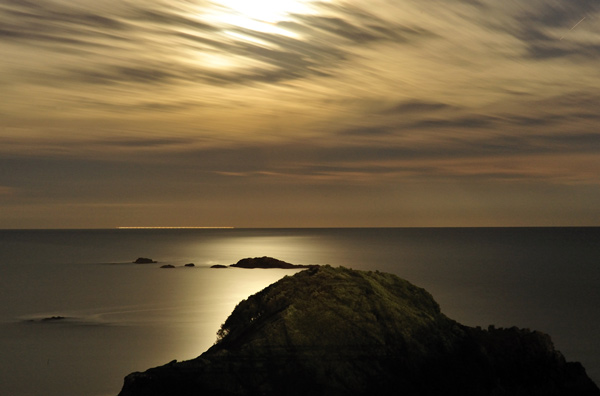 North Taranaki this week has been clear and mild for night photography by the  crescent moon. These slender new moons might give only the feeblest of light but if you can see your shadow by them then there is enough for moonlight photography! Nature also provides some magnifiers for moonlight, the best being its reflection on water. Snowy peaks or landscapes also good amplifiers of minimal moonlight.
The most obvious use of reflected moonlight is in seascapes, as in this view from the heights of Paritutu Centennial Park, above Back Beach, New Plymouth. Ngamotu nowadays refers to the beach enclosed since the late 1960s by Port Taranaki, but its original Maori reference is to the Sugarloaf Islands, two of which can be seen here: inshore Snapper Rock (Motuotamatea) and the Seal Rocks (Waikaranga) well beyond.
The moon was really past crescent but not yet at first quarter (a confusing term, say I); it was signing off early for the night by sinking into an approaching cloudbank. Out to sea it was already obscured, seen in the diminished reflection. Over a 5 minute exposure there was sufficient light however for the clouds and sea, even when using the smallest aperture on the telephoto.
It was also long enough to show a ship's trail on the horizon (rather faint to my eye at the time) and a solitary star blaze in the right corner. The clouds were relatively slow moving,  blurring less than anticipated. The vegetation on Snapper Rock has criss-cross shadows from the stark lights of the Dow agrichemical works, a great blight on the night landscape of this coast.
Autumn is a great season for the night photographer, and by 10th May in Taranaki the sun sets around 5.20 pm, allowing an early start without discouragement by the chill of July and August. Autumn also has more settled weather; wide isobars and an anticyclone are welcome here.
85mm, ISO 2000. 340 seconds (5 mins : 40) at f16. Vivid picture control
Posted by Barney Brewster
Tags: clouds, coast, high ISO, light trails, long exposure, moonlight, moonlight photography, movement, New Plymouth, Nikon D700, reflections, stars, Taranaki, telephoto

Categories: Night photography