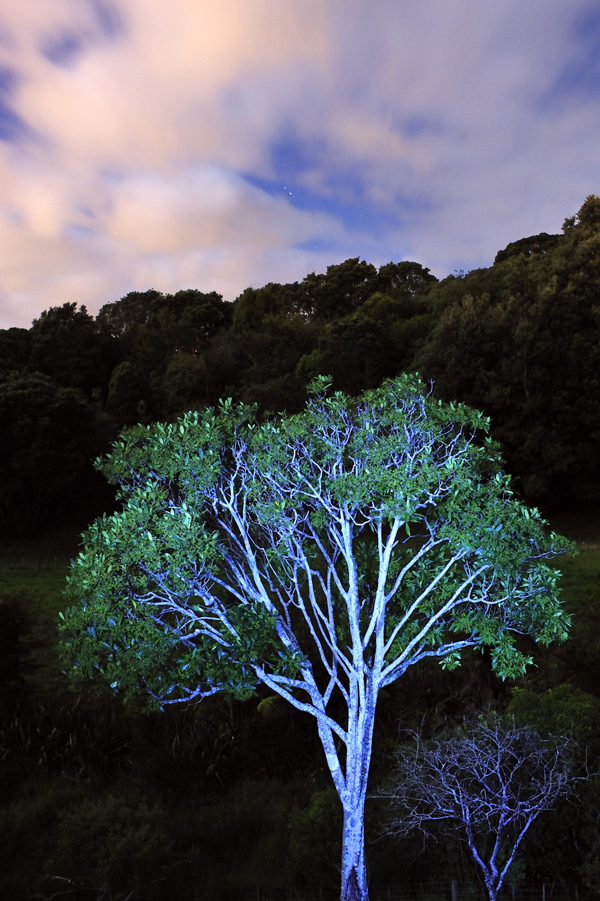 Low-flying cloud on the outskirts of New Plymouth accompanies this uncommon perspective from a high point near Barrett Domain. Running the beam over this attractive specimen from a steep ridge nearby, I spotted another outline in the background. Although deceased, the second tree adds depth, twisting the perspective further – mostly we look up at tree trunks, but not here.
It was a great evening but generally overcast; the pink cloud and blue sky you see above is not what I saw at the time. Three stars are visible. The sky is moonlit yet nothing else was, and the cloud reflects suburban street lighting from Westown. The light balance was set for Incandescent (tungsten) but the torchlight has a daylight balance, explaining the blue look. The light drop-off with the distant tree is reminiscent of flash photography.
I'm always on the watch for elevated viewpoints because they add layers to the landscape; sometimes they supply false skies as well (not shown). While I sometimes drive around with a stepladder in this cause, a dissected landscape can deliver unexpected elevations without that extra effort. The ring plain around Taranaki is actually rolling country and steep ridges and gullies are quite common, so in the right light unusual angles turn up.
Soon after I took this the evening's peace was disturbed by a group of college lads coming along the main access to the Domain. They stood for about 10 minutes in the background above, sharing a bottle and loud adolescent camaradie. Happy to avoid meeting them, I was glad to be well out of sight, if still within earshot. My own pastoral byway was so tucked away I barely knew of it, despite 40 years of coming here.
Out on your own at night you really want to reduce surprises to as few as possible. Fortunately around the Domain passersby generally fall into just two categories: dogwalkers and joggers.
28mm, ISO 2500. 30 seconds at f5.6. Vivid picture control
Posted by Barney Brewster
Tags: clouds, high ISO, long exposure, movement, New Plymouth, Nikon D700, stars, street lighting;, Taranaki, trees, tungsten, wide angle

Categories: Night photography