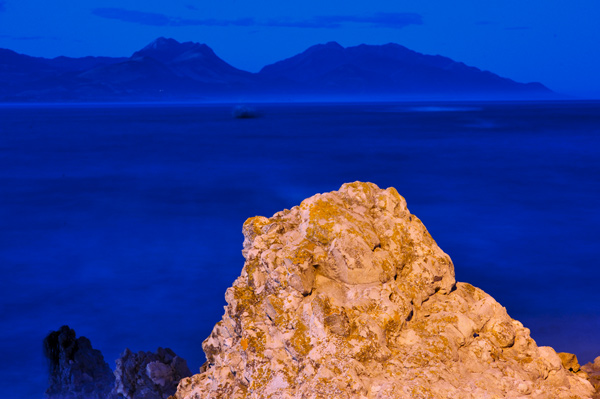 All along the watchtower, princes kept the view; While all the women came and went, their foot-servants too.  – Bob Dylan
The surreal song lyric [misquoted on the web] fits this enigmatic view from the waterfront pavement at Kaikoura, in the South Island. The scale is ambiguous and the light unusual, but at least more sense can be made of it than of Dylan's allusion to the Book of Isaiah (thanks, Bob). The rock looms out of the deepening dusk as the street light over my shoulder gradually takes command; meanwhile the sun sinks further below the horizon.
Around inhabited places twilight is an excellent time to be out with your camera, because of changes in relative light levels. Always at some point the artificial lighting is at par with ambient twilight; soon after the twilight fades further, to appear like a backdrop. With digital cameras this transition is easy to capture, not that it is hard to see at the time, but the change at every twilight means that over a few short minutes opportunities are rich indeed.
This composition has some classic elements, including a "third punch" with the two smaller rocks. They have the same companionable role as the supporting characters in a Disney movie, where the leading characters often have two sidekicks. Other minor details embroider the frame – the boat in the swell, an emerging breaker and the headline cloud. To tone down the orange cast of the lamp I used Incandescent on the Nikon D700 light balance.
The smallest aperture on the telephoto was needed for good sharpness overall; a fuzzy background would mean less impact, remembering that the focus fall-off is marked on telephotos of even the most modest length. This is the case for setting up with a tripod before sunset, minimalists take note: it enables the best aperture selection without camera shake worries.
Traipsing a tripod also makes you think more.
85mm, ISO 1000. 20 seconds at f16
Posted by Barney Brewster
Tags: coast, composition, focus, high ISO, Kaikoura, long exposure, mountain, movement, Nikon D700, street lighting;, surf, telephoto, tungsten, twilight, water

Categories: Twilight photography