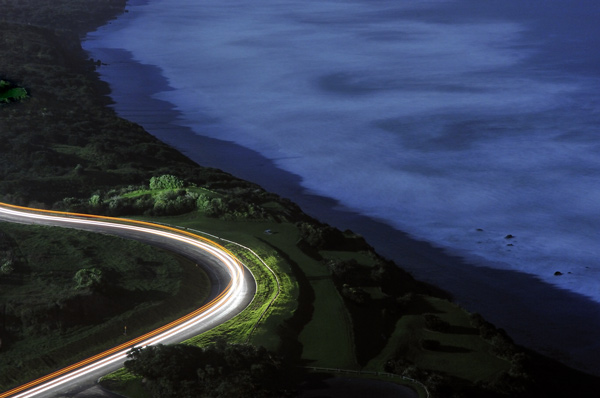 I say have patience, and shuffle the cards. –  Miguel de Cervantes, 1615
From the 153 m (502 ft) summit of Paritutu, the volcanic landmark backing Port Taranaki, the coastal outlook to Oakura is affected nightly by industrial lighting. Here we look down on Beach Road, leading to a well-lit tank farm but with little traffic after dark and no street lighting.
The Incandescent balance, exposure and frame were decided on in anticipation of the next approaching motor… then I waited. Trying out other ideas would mean a busy camera when the opportunity arrived – either in taking or dark-framing an image, a matter of at least a minute – so I didn't. Much.
Two cars are shown, one going each way. The light balance has turned the surf blue while giving better colour to the roadside. Without full moonlight Back Beach would hardly be visible, and here's the trap in that event: opening up a few more stops would wash out the car lights. Yet extending the shutter (instead) would work because the headlights would only be in half the exposure – the time it took for the cars to pass by. Oh how photography makes you think!
Light trails work best when their background is underexposed by at least 2 stops, but it depends on the setting – snow and surf of course add brighter contrasts. The lack of a sky makes this image more abstract, and increases the impact. A good elevation and a telephoto lens are both useful for this.
I had climbed the rock before sunset, as the last section is a steep scramble despite the safety chain; other people came up even after dark. It was a great evening for moonlight photography; my descent four hours later was no great problem. My tripod was zipped up in a shoulder bag while the strong glow of the port lights would be enough to see by even on a moonless night.
85mm, ISO 2500. 30 seconds at f11. Vivid picture control
Posted by Barney Brewster
Tags: coast, composition, high ISO, light trails, long exposure, moonlight, moonlight photography, New Plymouth, Nikon D700, surf, Taranaki, telephoto, tungsten, water

Categories: Night photography