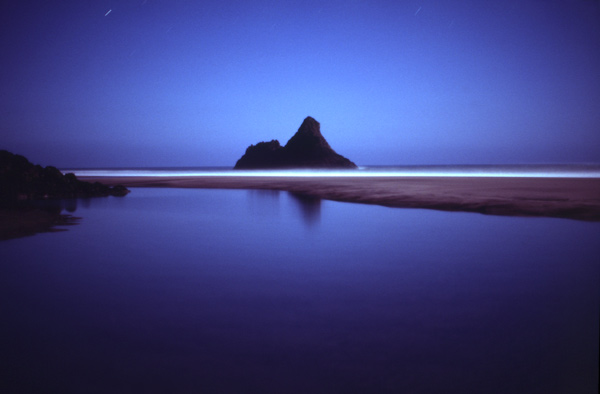 I took this on a rare night in which I stayed up sleepless till well past dawn on the wild Waitakere coast, with a Pentax Spotmatic F and three lenses.  By sunrise I was truly worn out and the long drive home was grim – fortunately I had the passenger seat and the weekend to recover.
However I loved the results, which showed only modest colour shift from long exposure, even on Kodachrome 64. The sense of scale and depth of focus suggest the 28mm wide angle here, approx 10 minutes at f2.5. The islet is Panatahi and we're looking southwest. The modern aerial on Google doesn't show the stillwater but probably the stream has changed course since.
The picture elements here are very simple: an even vignetting from the lens barrel plus almost a mirroring of sky and lagoon, two brief star trails in similar positions – but why is the islet right in the middle? The rocks are volcanic, the sand more likely grey than tawny, and the tinge to Panatahi tells of a declining moon. Time of night I did not know but it must have been about 5 am.
The beach was broad and the tide out. I'd had this entire landscape to myself for many hours, yet at one point while crossing a long reef to the south this perfect isolation was nearly my undoing. While lugging my gear – and just a short time before taking this photo – I almost stumbled into a gaping chasm in the reef, from fatigue and inattention. No doubt the incoming tide would have found me long before anyone else could have.
Let's not ignore the safety side of moonlight rambles, especially solo ones. Cell phones and emergency beacons can be unreliable; help is so often far off; fatigue and the gloom lead to misjudgements – the outdoor moonlighter from time to time faces serious risk to life and limb. A daylight reconnoitre beforehand is a good idea.
Posted by Barney Brewster
Tags: auckland, beach, coast, composition, film, long exposure, moonlight, moonlight photography, Pentax, safety, stars, surf

Categories: Night photography